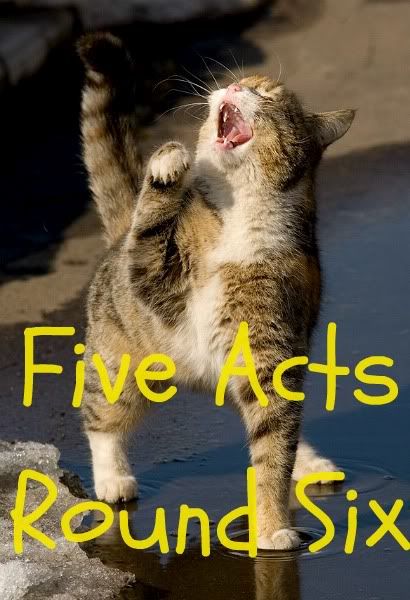 Based on the community
five_acts (check it out for more details!), we're going to have a week of indulging each other's favourite kinks, tropes, acts and pairings. Amazingly, we are up to Round Six. In a nutshell, what we do is:

+ Post a list of your five favorite acts/kinks to read about. Check out this list if you need some inspiration. At the bottom of your post, add what fandoms/pairings you're interested in.
+ Read other people's lists; the master list of lists is here.
+ Post comment-fic based off of other people's interests.

Once you've posted your list, give me the link in the comments here so that people know how to find you. If anyone would like a banner to decorate their post, there are some over here, and please feel free to add to the collection.

To sign up, please post this form in the comments:



I'll post my own sign-up comment as an example.

The Five Acts Meme will last from the 13th to the 19th of April. Check out the Five Acts Delicious Account to see what has been written so far. I could really do with some more volunteers to help out with logging the fics, so please do let me know if you think you could help.



Links
Round Six Master List :: The Five Acts Delicious Account :: Banners :: Questions



ETA: This round is now closed. Thank you to all who signed up! You can continue filling requests for as long as you'd like. Keep an eye out, because we're going to have an amnesty round for old, unfinished request fills in a month or so. Round seven will be held sometime in August-ish.