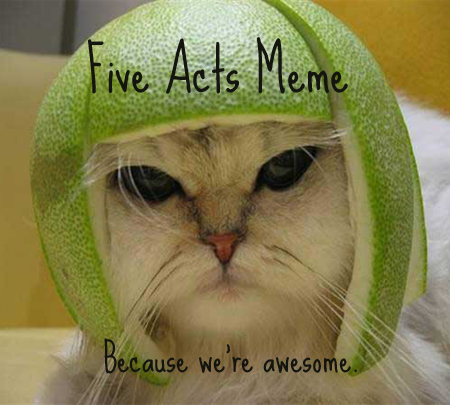 Based on the community
five_acts (check it out for more details!), we're going to have a week of indulging each other's favourite kinks, tropes, acts and pairings. Round one in April was amazingly fun and I hope you guys have a good time around this time too. In a nutshell, what we do is:

+ Post a list of your five favorite acts/kinks to read about. Check out this list if you need some inspiration. At the bottom, add what fandoms/pairings you're interested in.
+ Read other people's lists; the master list of lists is here.
+ Post comment-fic based off of other people's lists.

Once you've posted your list, give me the link in the comments here so that people know how to find you. If anyone wants a banner to decorate their post, there are some awesome ones here here, and you can feel free to add to the collection.

To sign up, please post this form in the comments:



I'll post my own sign-up comment at the bottom as an example.

The Five Acts Meme will last from the 28th of August until the 6th of September. Check out the Five Acts Delicious Account to see what has been written so far.



Links
Round Two Master List :: The Five Acts Delicious Account :: Banners :: Questions



eta: We are now closed. Check back in December for round three!